Събития
ПРЕДСТОЯЩИ Събития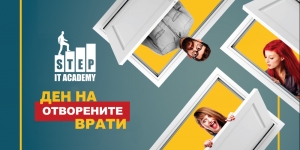 ДАТА: 14.12.2019
#SwiftSofia 3rd Birthday - SwiftUI
Next #SwiftSofia meetup is approaching and we'll be having our 3rd Birthday! Save the time & date- COSMOS Coworking Camp on 10.07 at 18:30pm!
КОГА: 10.07.2019
МЯСТО: Cosmos Coworking
ВХОД: СВОБОДЕН
For the special occasion, we will be discussing a curious topic :) Our speaker Ivan Dilchovski will be talking about the new 100% Swift native UI toolkit from Apple - SwiftUI together with the new Combine framework - Apple's take on Reactive Programming. What's the hype about with these declarative UIs anyway? Should you already forget about Cocoa? Throw away your RX codebase? Thoughts on this and many more in the next #SwiftSofia meeting.
We will be gathering for a drink at 18:30, the start of the talk will be at 19:00.
See you there!
Ivan Dilchovski
Ivan has been developing for the Mac since 10 years ago but has fully transitioned to iOS in the last 4 with the introduction of Swift. He has extensive freelancing experience having worked with startups both from around the world and Bulgaria and has been with Tumba for the past year.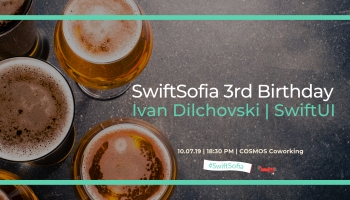 Тумба Сълюшънс
Tumba Solutions is an A-Team IT advisory company. We deliver top-notch web and mobile apps that empower businesses to be at the peak of the latest technology trends. Our domain is exclusive software development solutions for publishing, sports and entertainment industries, ranging from startups to enterprise clients in UK and US. Tumba Solutions was established in 2014 as a response to a firm belief that Bulgaria is not just the hot outsourcing destination, but a land of innovation where tech mastery and out-of-the-box thinking thrives and create amazing software.